For those unfamiliar with the blog award concept, it's a fairly informal way of shouting: "Holla!" to bloggers whom you admire. Blog award etiquette seems to be: (a) acknowledging the person who nominated you, (b) sharing a few interesting tidbits about yourself (a "meme," if you will), and (c) passing along the torch to some other blogs you might frequent.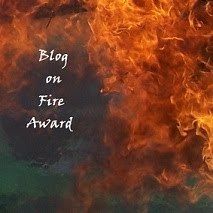 First things first: a big "thank you" to Melissa, creator of the blog A Wag of a Tail, for bestowing this blog with the "Blog on Fire Award."
And now, here are five factoids about moi:
– My younger brother, Eric, and I share the same birthday (November 28th) exactly one year apart. I like to joke that he was a natural-born party-crasher.
– My late father, Peter, was born and raised in Budapest. And although I was potty-trained in Hungarian, I otherwise don't speak a word of the language.
– I am equal parts horrified and fascinated by the phenomenon of FB. Currently, I do not have a profile.
– I met my husband, Jeff, at a Perkins restaurant while still in high school. A full 10 years later, we started dating. ;-)
– I adore the Spanish language, and at one point was a fluent speaker. Now, I just smile and nod a lot whilst visiting Spanish-speaking countries.
Finally, for the "passing of the torch." This part is difficult, because there are so many bloggers out there whom I admire. Nevertheless, I shall nominate (in no particular order) the following funny, thought-provoking, and inspiring blogs. Kudos, fellow bloggers! May you all have a swimming New Year!